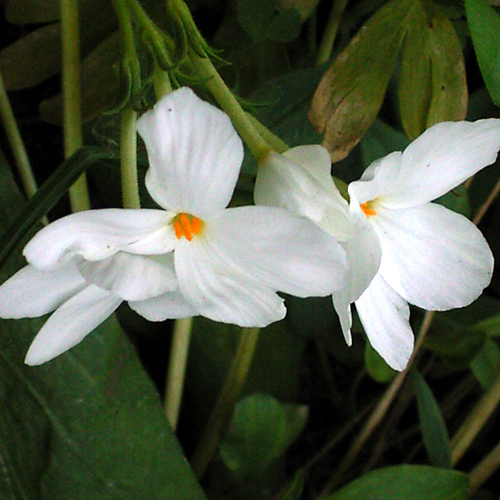 Watering Phlox stolonifera
continental : Letís try to keep the ground fairly damp, watering every 10-11 days with 1-2 glasses of water; when the weather is very harsh and the temperatures are below zero, watering can be interrupted.
alpine : Every 10-11 days water the soil, trying to wet it deeply; keep the ground constantly moist, although we must avoid water stagnations. Usually 0-1 glasses of water are used.
mediterranean : We suggest watering regularly with 2-3 glasses of water, trying to keep the growing substratum pretty cool and moist; if the climate is very cold we can reduce watering. 10-11 days should go by between irrigations.
Exposure Phlox stolonifera
continental : Locate this plant in a partially shady spot, where it can receive some hours of direct sunlight.
The Phlox stolonifera can stand the cold and can even stand prolonged freezing and very harsh temperatures; therefore itís grown in the garden.
alpine : Let's grow these plants in a partially shaded place, where they can receive direct sunrays just for a few hours a day.
The Phlox stolonifera can stand the cold and can be grown in the garden even during the coldest months of the year.
mediterranean : The Phlox stolonifera can bear a few hours of direct insolagtion, but it is best to place it in a partially shady place.
The Phlox stolonifera is a very rustic plant, which can stand without problems the winter cold.
Fertilization Phlox stolonifera : In the winter great part of the perennial plants have a period of vegetative rest, therefore itís not necessary to fertilize them.
Treatments Phlox stolonifera : Towards the end of the winter, before the buds get bigger, letís apply a defensive treatment against the most common fungi diseases, using a fungicide based on sulphur and copper.